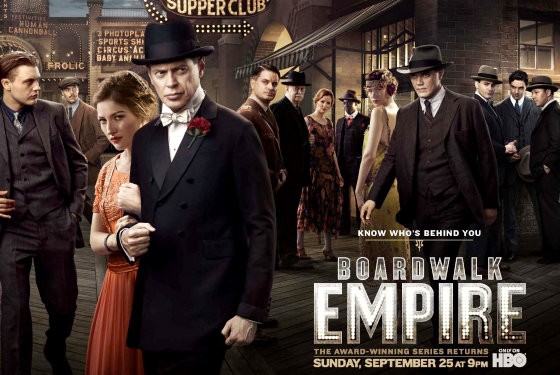 Man, so that was actually an awesome episode of Boardwalk Empire. I mean, this is what they did last year - started out strong and then quickly got slow and boring and kind of lame. But the premiere episode opened up a lot of promising new storylines, and I'm actually excited to see where they take us, which is a nice surprise.
Let's tackle them one by one, shall we?
Well, Omar AKA Chalky got hit by the KKK (I know a call a lot of things The Worst on here, but let's face it, the KKK is actually THE WORST hands down), which appears to be orchestrated by Jimmy's dad (The Commodore? The Commander? Something like that.) This is the one piece that doesn't sit well with me because Chalky is my all-time fave on this show and this development seems to hint towards less Chalky and less of the black perspective in general, which is not good. More Chalky! Let my Chalky go! Anyway, this is part of Jimmy's dad's plan with Eli and Jimmy to edge out Nucky and take back Atlantic City. Good luck old man. There was a real creepy scene in his game room where he talks about how the bear thought he didn't have to be afraid of him and then he shot him in the stomach. Not a big stretch to realize that Nucky is the bear.
Jimmy married his baby mama and they are living in a creepy Oedipal house with Jimmy's mom, who admitted that she used to kiss his "winky" when she changed his diaper. (A) Gross, and (B) GROOOSSSSSSSSSSS. Jimmy's wife (Amelia or something? I can never remember these people's names) is understandably skeeved. I am rooting for Sexy Half-Face and her to get together; that scene of him gluing the pictures of families, lovers, and children into the bible was my favorite scene of the whole episode - so poignantly tragic and beautiful. That actor, whoever he is, is incredible. More Sexy Half-Face! Meanwhile, Jimmy continues to reject Nucky for reasons that aren't entirely clear, possibly because I kind of stopped paying attention to this show halfway through last season. Did Nucky try to kill him? Or is it just because he wouldn't give him enough responsibility? I've not no idea, but it doesn't really matter. Nucky is hurt because he pretty much raised Jimmy and cares for him, but Jimmy is selfish and also clearly has HUGE parental issues being that his mom is a creepy whore who is only 13 years older than him and his dad is The Worst. So Jimmy puts Nucky's gift of the statue of the man and the boy bonding over a dead deer in the closet and symbolically turns out the light.